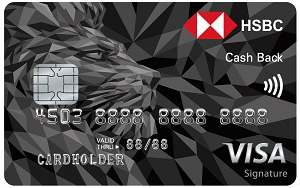 HSBC Cashback Signature Credit Card
Entitling you to generous cash back.
Enjoy greater savings on your daily transactions

1.22% cash rebate on domestic spend.

2.22% cash rebate on overseas spend.


No threshold, and no merchant exclusion1

More spend, more cash rebate.

Evergreen cash point.


Redeem your rewards with flexibility

You may use your Cash Rebate Points to either offset your credit card spend or redeem airline mileages at your choices!
Are you eligible?
Main card applicants must be between 20 and 65 years old
A minimum annual income of NT$400,000 is required
Apply for HSBC Cashback Signature Credit Card
Apply by post
Please download and complete the form below.

1New applicant (not HSBC primary nor supp credit cardholder in the past 6 months) enjoys annual fee waiver for the 1st year. Annual fee for card renewal: NT$ 2,000.
Annual fee for the following year is waived with 12 transactions or accumulated card spend over NT$ 150,000 in the previous year.
2Terms and conditions applied during the program period from Jan 10, 2019 to Dec 31, 2019. Annual cap for cash point is 30,000 pts per account (combination of primary and supplementary cards) for domestic and overseas spend respectively.
Cash Rebate only apply to eligible purchases, please refer to Welcome Pack for more T&Cs details.
Please manage your finances carefully and value your credit. Interest on revolving credit and cash advance 5.68% to 15.00%. Service Charges for cash advance NT$100 + the amount of cash advance * 3.5%. Base date of interest on revolving credit: September 1 2015.