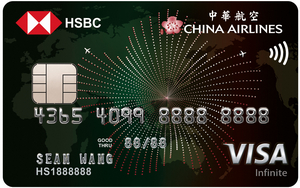 HSBC China Airlines Credit Card
Up to 57% off mileage redemption for free flight ticket
HSBC China Airlines Infinite Card
Overseas spend: NT$15 = 1 mile

4 complimentary airport pickups per year

China Airlines Dynasty Gold membership for 2 years

Up to 57% off mileage redemption
HSBC China Airlines Signature Card
Overseas spend: NT$15 = 1 mile

2 complimentary airport pickups per year

Airport priority with exclusive check-in counter

Up to 57% off mileage redemption
HSBC China Airlines Platinum Card
Overseas spend: NT$30 = 1 mile

1 complimentary airport pickup per year

30 days for complimentary airport parking

Up to 57% off mileage redemption
Apply for HSBC China Airlines Credit Card
Apply by post
Please download and complete the form below.
Things you should know
Please manage your finances carefully and value your credit. Interest on revolving credit and cash advance 5.68% to 15.00%. Service Charges for cash advance NT$100 + the amount of cash advance * 3.5%. Base date of interest on revolving credit: September 1 2015.